,

,
,

,

Eye pillow highlights
Fantastic relaxation aid – helps you destress
Relieve aching shoulders or joints
Organic ingredients
Can be used warm, cold or at room temperature
Melt Away Stress and Tension with an Aromatherapy Eye Pillow
Are you feeling stressed and tired from the demands of everyday life? Do you wish you could relax your eyes and mind with a natural and soothing remedy? If so, you will love this aromatherapy eye pillow.
The aromatherapy eye pillow is a cozy and comfortable pillow filled with organic wheat grains and organic lavender buds that gently covers your eyes and blocks out the light. It offers a range of benefits for your physical and mental well-being, such as:
– Relieving tension headaches by applying gentle pressure on the acupressure points around your eyes and forehead.
– Calms your nervous system by stimulating the vagus nerve, which regulates your heart rate, blood pressure, and digestion.
– Enhancing your mood by releasing the calming and floral aroma of lavender, which is known to reduce stress, anxiety, and insomnia. According to research by University of Miami School of medicine, aromatherapy greatly helps with mood.
– Improving your blood circulation by using it as a warm compress, which can also reduce puffy eyes and dark circles.
– Soothing your eye strain by using it as a cold compress, which can also help with allergies and inflammation.
This aromatherapy eye pillow is easy to use and versatile. You can heat it in the microwave for 30 seconds or freeze it in a zip lock bag for a refreshing experience. You can also add 1-2 drops of your favourite essential oil to the inner bag for extra aromatherapy benefits. The pillow comes with a removable cotton cover that is soft and breathable, and can be washed on delicate cycle.
The aromatherapy eye pillow is the perfect gift for yourself or a loved one who needs some pampering and relaxation. It is ideal for yoga, meditation, sleep, travel, or just a cozy night in. It is also eco-friendly and cruelty-free, made with organic ingredients and no animal products.
Look at what some of my happy customers have to say about the aromatherapy eye pillow:
"I love this eye pillow! It smells amazing and feels so good on my eyes. I use it every night before bed and I sleep like a baby." – Sarah
"This eye pillow is a lifesaver for my migraines. It helps me relax and ease the pain. I also love that it's organic and natural." – James
"This eye pillow is the best thing I ever bought for myself. It's so soothing and relaxing. I use it for yoga and meditation. It helps me focus and calm down." – Lisa
According to a study by University of Miami School of Medicine, lavender can improve sleep quality by 60%. So why wait? Order your lavender eye pillow today and enjoy the gift of rest! If unscented is your thing, then get this one instead – Weighted eye mask – Unscented
Grab this awesome deal while you can! Get a free lavender sachet with your eye pillow order. Just use the code LAVENDERSUMMER at checkout. Hurry, limited time only!
Don't miss this opportunity to treat yourself or someone you love to a relaxing and natural remedy. Order your aromatherapy eye pillow today before they run out! As these are rescued fabrics, the same colours and prints won't be available again. Don't wait until it's too late.
Organic grains filled eye pillow provide amazing relief to your optic nerves when you rest it over your eyes. The grains settle into your eye socket (through the bag) and create gentle pressure for ultimate relaxation.
Filled with Organic French Lavender and/or dried red rose petals, this eye pillow smells divinely soothing. If stored in a cool, dark place; the scents should last a couple of years. 
No harmful chemicals, just natural goodness. Wheat or rice – it's all organic. No toxic pesticides and plastic free ingredients for a chemical free stress relief.
These weighted eye masks come with an outer bag and an inner bag unlike most other eye pillows on the market. The outer bag can be washed to keep it clean of makeup & body oils. This means you get to use it for longer which reduces your eco footprint even further. 
Heat up the inner bag in the microwave for 30 seconds or make a cold pack by storing it in the fridge. Pop it back in the outer bag and use it as an organic pain relief pad.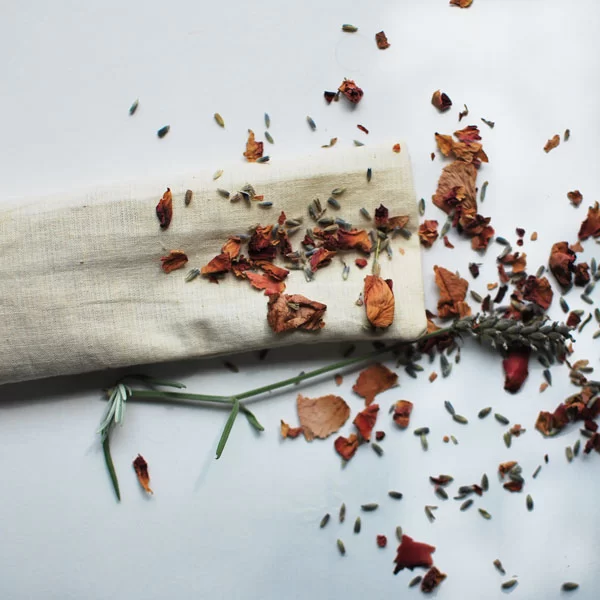 As a relaxing eye mask, lie down comfortably and pop these over your closed eyes.
As a hot pack, warm the inner bag for 30 seconds or less. Put the outer cover back on & place it over the sore joint. Make sure its not too hot before use.
If you want to use it as a cold pack, place the inner bag in a freezer tray over night. Put the outer cover back on & place it over your sore joint.
Send me the exact measurements you need. I will make it to measure for you.