Join our sewing workshops and unleash your creativity with expert guidance.
Beginner-friendly Sewing Workshops
Learn the basics of sewing and start creating your own projects with our beginner-friendly sewing workshops. Our experienced instructors will guide you through the essential techniques and help you gain confidence. Join our workshops to learn to sew, mend or upcycle.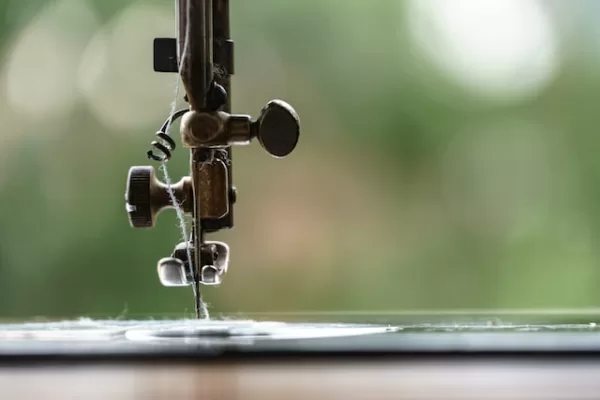 Testimonials says it all ...
The machine sewing 101 workshop was amazing. The instructor was very knowledgeable and provided informative tips, hints and advice. She consistently checked on our progress and supported each of us whilst also encouraging us. The setting and and mood was very relaxing and welcoming. I will definitely be attending more workshops from this instructor.
Destiny
I went from knowing absolutely nothing about sewing to having a grounding in the knowledge needed to tackle basic repairs and projects alone with my sewing machine. Everything from fabric choice and thread types to technique and equipment were covered! I really enjoyed the session and I'm feeling motivated to learn more!
Sebastian
Kavita was very knowledgeable and had lots of fabric for us to use as examples.
Danni
I feel much more confident about attempting basic repairs on my clothes and also feel like I could develop my skills. The workshop was really great for getting a sense of sewing and some basic skills. Plus I now have attached my missing button and fixed the hem on a favourite skirt!
Tanya
Kavitha's workshop was fun, practical and informative. Although I have been sewing for some time, I learnt some great basic tips and left the workshop wanting to sew more.
Tracey
I absolutely loved my session with Kavitha. She knew her stuff. I learned so much in such a short space of time. The other ladies there were friendly & supportive . I left the session feeling a lot more confident about how to use my machine & with a feeling of wanting to learn more about sewing.
Becky
my 12 year old daughter loved the introduction to the sewing machine workshop….very informative and encouraging….she can't get enough of sewing now!
Katie
Wow! What an incredible workshop. The how to master your sewing machine workshop was definitely what I needed. I learnt how to set up my machine, use different stitches and settings a s troubleshoot common problems. The instructor was really knowledgeable and really patient with me. She answered all my questions and gave me plenty of time to practice. My confidence in my sewing skills has improved 10 fold and I couldn't have got here without this class. This workshop is a must for anyone who wants to improve their sewing skills
Lou
It was a treat receiving a workshop from someone that's so knowledgeable. Kavitha really takes the time to explain each step, so if you're a complete beginner like myself, you won't get lost. She was also observant of who was falling behind and made sure to give them some 1-1 help, which is great.
Ahine
Really lovely evening spent learning how to use my sewing machine. I now feel confident to make things! Really reasonable cost as well.
Kelly
Kavitha was a knowledgeable course leader. We covered 3 topics – hemming, sewing a button and mending a seam tear. I feel that I learnt a lot in the two hours and would highly recommend Kavitha and the course. I'm looking forward to the next one.
Liz
This workshop was amazing. I learned how to mend clothes in three different ways and I was surprised by how easy and fun it was. The instructor was very professional and supportive. She taught us how to use different tools and materials and how to be creative with our mending. I feel more confident and inspired to mend my own clothes now. This workshop is a must for anyone who cares about the environment and their wardrobe.
Fran
I attended the Visible Clothes Mending class run by Kavitha at isifiso. The class was very well-organized and all tools needed was provided. Kavitha was very friendly and knowledgeable. The class was very fun and relaxing, and I felt very proud of my work at the end. I highly recommend this class to anyone who wants to learn how to repair their clothes
Tim
Clothes alterations done for you
Rescue your clothes from the back of the wardrobe and give them a new lease of life by getting them mended and altered. At isifiso, we provide:
Products for all your needs
isifiso offers products for all budgets and to suit your individual tastes. With products ranging from kitchen to personal care, isifiso helps you streamline your life, help you connect with the planet and make a meaningful difference.
1000+ people have trusted our products
Beautifully made and quick to send, will definitely be buying from here again! x​
A really gorgeous item. The lavender smell was divine and so relaxing. Well packaged, quick delivery and great communication with the seller. I'd definitely recommend. Wonderfully soothing to use too.
I got the Ditsy Floral scrunchie for my niece. They are really well made and she loves the fabric and I love that I've bought her something that's ethical.
Perfect, we now have one each and they work so well. No more plastic bottles in the shower for us
I love this, so beautifully made and the material is gorgeous. Perfect for my needs. Many thanks
Lovely product. Well made. It's gone into my swimming bag and is a great way to use my old bits of soap in the pool shower.
Lovely fabric, color, and quality. Mine fit me perfect as a large My own USA measurements: 29'' waist 40" hips 31" inseam 11" Rise I'm so happy to support the Isifiso indie brand. Kavitha was nice to work with.
These are fantastic, was looking for a way to give up my paper towels and these are the answer, I bought 4 so I always have them at hand. Beautifully presented in eco friendly packaging and quick delivery. Items are well made and sewn to last. Would thoroughly recommend.
Really lovely and well made. bought for a friend as a present and she was very happy with it.
Bought previously and was happy so bought again when I needed a replacement. Product arrive nicely wrapped with no plastic packaging. Would happily buy again.
isifiso = rescued fabrics
isifiso has been hard at work rescuing fabrics from trash bins and making a difference in the local community. Textile waste is either incinerated or sent to landfill. Rescuing this textile waste means reduced air pollution within the local area and decreased land and water pollution further afield.
18 kilos
of fabric scraps of all sizes have been rescued
4,900,000+ litres
of water saved by using Organic cotton in our clothing
13,665+ watt hours
saved by using Organic cotton & green energy for the studio
Fabrics have their own story. From the time I was 12 and started to sew, I have been fascinated by the story behind the fabrics and how they came into my hands. I have always collected (hoarded fabrics) and so when they needed rescuing, I knew I had to do it. Want to know more and how I started with fabric rescue project?
Live your Life Sustainably Every Day.
Join the exclusive eco community to hear about newest products and latest workshops